Console de Mixage Numérique MIDAS PRO6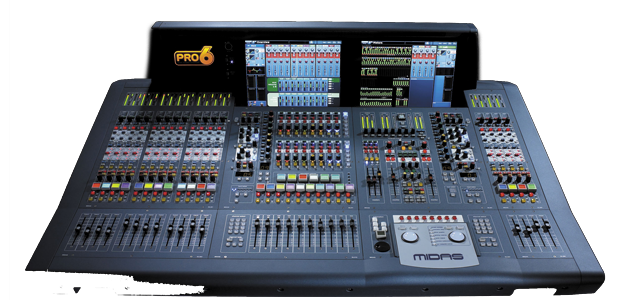 Live performance digital console control centre with up to 64 simultaneous input channels
Includes DL371PRO6 Audio System Engine with 24 Gigaflops digital signal processing performance
DL371PRO6 fitted with 5 DL371A DSP cards as standard
Additional DL371A DSP cards allow upgrade to PRO9 and N+1 redundant operation
35 time-aligned and phase-coherent mix buses
40 bit floating point processing with 96 kHz sample rate
HyperMAC and AES50 networking allows up to 288 inputs and 294 outputs @ 96 kHz sample rate
HyperMAC router with 192 bidirectional channels over copper and optical fibre
Provides dual redundant snake connection to DL371PRO6 Audio System Engine
Snake connections up to 500 m with optical fibre or 100 m with CAT5/5e cable
10 VCA (variable control association) and 8 POPulation groups
Up to 36 assignable 1/3 octave KLARK TEKNIK DN370 graphic equalisers
Up to 8 multi-channel digital signal processing effects engines
29 MIDAS PRO motorised 100 mm faders
2 daylight viewable 15" full colour TFT display screens
Fully interpolated touch sensitive controls
Optional wireless remote control with MIDAS MIXTENDER App for iPad*
Three bay auto-ranging universal switch-mode power supplies with N+1 redundancy
Designed and engineered in England
KUDO L-Acoustics
FR_KUDO_SP_FR_5-0
L'enceinte KUDO® est pilotée et amplifiée par le contrôleur dédié L-ACOUSTICS® LA8 qui assure la
linéarisation active, la protection des transducteurs et optimise deux modes d'exploitatiKUDO
Ligne Sou rce WST® grand format
KUDO® est une ligne source de grand format opérant sur une bande comprise entre 35 Hz et
20 kHz. La réponse en fréquence du système peut être étendue à 32 Hz voire 25 Hz avec les
renforts de grave SB18 ou SB28, respectivement.
L'enceinte de type 3 voies quadri-amplifiée comprend deux transducteurs de 12'' accordés dans une
enceinte bass-reflex pour le registre grave et 4 transducteurs medium de 5'' à haut rendement. La
section aiguë comporte deux moteurs à chambre de compression de diaphragme de 1.75'' couplés
à deux guides d'onde DOSC®. Un procédé de directivité réglable par déflecteurs* permet d'ajuster
mécaniquement la directivité des sections medium/aiguë dans le plan perpendiculaire au DOSC®
et offre quatre angles de couverture différents. L'alliance d'une géométrie coplanaire et du guide
d'onde DOSC® réservé aux fréquences élevées permet de remplir les cinq critères de la WST®.
L'enceinte KUDO® est fabriquée en multipli de bouleau Balte de premier choix pour une intégrité
mécanique optimum. Son système d'accrochage en quatre points est totalement captif et intégré
dans la menuiserie. Réalisé dans un acier haute résistance, il permet de suspendre jusqu'à 21
enceintes KUDO® en ligne source verticale à courbure variable avec une flexibilité angulaire entre
enceintes de 0 à 10° par incréments de 1°. En outre il permet l'utilisation du KUDO® en ligne source
horizontale à courbure constante avec un angle inter éléments de 10°.on :
• Le mode Ligne Source ''LARGE BANDE'' pour une utilisation sans renfort de grave.
• Le mode Ligne Source ''PASSE-HAUT'' pour une utilisation avec renfort de grave
ou en complément de diffusion
Chacun des deux modes offre trois variantes de presets optimisant la balance tonale en fonction
de la position des déflecteurs à 50, 80 ou 110 degrés. Les performances d'une enceinte KUDO®
dépendent du preset utilisé et de la configuration choisie.
SB28 L-Acoustics
SUB-GRAVE HAUTE PUISSANCE
L'enceinte acoustique SB28 est un complément sub-grave recommandé pour les systèmes K1,
KUDO®, V-DOSC® et ARCS®. Elle permet d'étendre la bande passante du système jusqu'à 25 Hz.
L'enceinte comprend l'assemblage de deux haut-parleurs de 18'' en radiation directe dans
une enceinte accordée en bass-reflex. Ces haut-parleurs offrent une capacité d'excursion
exceptionnelle associée à une compression thermique faible même aux niveaux sonores les plus
élevés. Les évents bass-reflex possèdent un profil au contour progressif exclusif permettant un
écoulement d'air laminaire. L'association de ces nouveaux haut-parleurs et évents se traduit par
un gain SPL crête de l'ordre de 5 dB par rapport aux standards précédents.
L'enceinte SB28 est pilotée et amplifiée par le contrôleur dédié L-ACOUSTICS® LA8. Le filtrage
numérique effectue l'égalisation du système, l'encadrement de la bande passante, tandis que
le procédé d'asservissement L-DRIVE assure la protection thermique et administre les limites
d'excursion des équipages mobiles des haut-parleurs. Deux modes d'exploitation sont possibles :
• Le mode ''standard'' pour une utilisation en complément d'un système principal K1, V-DOSC®,
KUDO® et ARCS®, avec filtre passe-bas à 60 Hz (preset [SB28_60]) ou bien
ARCS® avec filtre passe-bas à 100 Hz (preset [SB28_100]) en configuration couplée
• Le mode ''cardioïde'' pour une utilisation en complément d'un système principal K1, V-DOSC®,
KUDO® et ARCS® avec filtre passe-bas à 60 Hz preset [SB28_60_C]) ou bien
ARCS® avec filtre passe-bas à 100 Hz (preset [SB28_100_C]) en configuration couplée
Les performances d'une enceinte SB28 dépendent du preset utilisé et de la configuration choisie.
L'ébénisterie est réalisée en multipli de bouleau balte de premier choix. Elle intègre des rails
standard Aeroquip® pour l'accrochage en ligne verticale.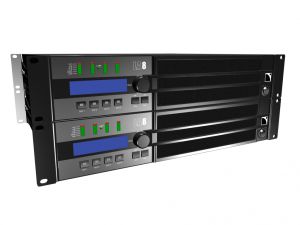 LA8
CONTRÔLEUR AMPLIFIÉ
Le contrôleur amplifié LA8 appartient à la génération des contrôleurs intégrés haut de gamme totalement dédiés au pilotage des systèmes
d'enceintes L-ACOUSTICS®. Le LA8 regroupe dans un format 2U les ressources d'un DSP 2 x 4 pilotant quatre canaux d'amplification délivrant
jusqu'à 1800 watts chacun, une librairie de presets usine complète, une interface utilisateur intuitive, deux ports de connexion Ethernet pour
pilotage en réseau, un panneau de connexion pour les entrées audio et les sorties haut-parleurs, et une carte d'entrée AES/EBU.

LEXICON PCM96
An artful blend of heritage and innovation, the PCM96 Stereo Reverb/Effects Processor delivers 28 new and legendary Lexicon reverbs, delays and modulation effects straight into your DAW.
Appearing for the first time are new Room and Hall algorithms, plus an assortment of new mono reverbs and effects. With decades of legacy products to pull from, the PCM96 also includes the finest collection of factory presets available in a stereo processor – over 1200 and growing – including some recognizable classics from our immense library of sounds.
The PCM96 gives new capabilities to our traditional reverbs by adding multimode filters at several spots in the audio flow. This allows more exact shaping of the reverb while still maintaining the distinctive Lexicon sound. All reverbs also have an « Infinite » switch that allows the reverb to run forever, a useful feature for creating unusual backgrounds and sound effects.
Lexicon's new Room algorithm provides a more flexible alternative to convolution type reverbs. Reflection patterns can be easily selected, scaled and equalized – all while simultaneously passing audio. They can be instantly reversed or combined with a traditional reverb to extend the decay or bring a stronger sense of "liveness" to the space.
With two channels XLR analog and two channels XLR AES/EBU digital I/O, along with MIDI, Ethernet and Firewire connectivity, the PCM96 easily fits into a variety of recording and live sound environments. In any application, the PCM96 delivers the versatility and sound that is unmistakably Lexicon.

EMPIRICAL Labs Distressor EL8X
The Distressor is the product that started it all for Empirical Labs. Born of founder Dave Derr's love of classic compressors like the 1176, LA-2A and Gain Brain (among others), the Distressor incorporates his favorite sonic characteristics of these, along with other unique and interesting features that have made it a staple for audio engineers all over the world. With over 28,000 units in the field, it's safe to say that the Distressor is one of the best selling high end compressors of all time…
if not THE best selling. A prominent recording engineer recently wagered that there probably was not a top 40 record made in the last five years that didn't have at least one Distressor on it.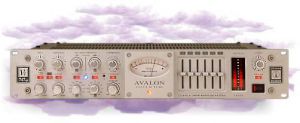 AVALON Design VT-747 SP
The Avalon VT-747SP combines a creative STEREO tube-discrete Class A spectral-opto-compressor with a musical six band program equalizer, L-R output level and gain reduction metering and internal regulated power supplies in a 2U space. Ideal for high performance DAW input signal conditioning, stereo buss compression-EQ, stereo keyboards and analog mastering applications.
SPECTRAL-OPTO-COMPRESSION
The opto-compressor features a minimum signal path design utilizing sealed silver relays for all signal routing and by pass functions. The optical attenuator acts as a passive level controller with a Class A, variable gain make-up amplifier. Full dynamic control from soft compression to hard-knee limiting can be achieved with master threshold, ratio-compression, attack and release controls. Gain reduction indication is a large analog VU meter. Low frequency and high frequency contour parametric spectral controls can be routed into the side-chain path for enhanced frequency dependent compression with variable frequency and threshold levels. SC listen provides side-chain listen mode for monitoring.
SIX BAND PROGRAM EQUALIZER
The VT-747SP equalizer utilizes 100% discrete, Class A high-voltage transistors for optimum sonic performance. The six band STEREO program EQ incorporates the smooth characteristics of an all passive design. The frequency turnover, Q and amplitude ranges have been carefully chosen for each band to provide the most natural harmonic balance and lowest phase change while offering simple and effective tone control. The EQ can be placed pre or post the opto-compressor for enhanced effects.
TSP – TWIN SIGNAL PATH
The VT-747SP features TSP which gives you the choice of either tube tone or the classic, Class A discrete transistor sound by exchanging, three (3) high-voltage dual triode tubes with discrete amplifiers in the opto-compressor and primary output stages.
INPUT-OUTPUT and METERING
Fully balanced DC coupled, Class A discrete amplifiers are utilized for the input and output drive interface with+36dB input headroom. A high quality analog VU meter indicates accurate gain reduction. Twin 60dB range LED meters provide fast L-R output status of all levels
M-One – Dual effects processor
Behind the cool looking exterior of this Dual Effects processor is more than 20 years of know-how and experience in creating high quality sound machines with state-of-the-art sound. The M-One combines our heritage with affordability!
More than 20 high quality algorithms enable you to make music instead of wasting time programming! Let TC's world acclaimed intuitive user interface take you there fast and easy.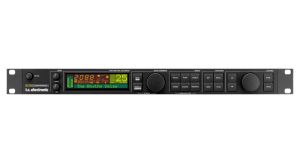 D-TWO Multitap Rhythm Delay
Think of delays and chances are our delays are what you hear in your head. Not to toot our own horn (though we'd probably never leave the house again if we could), but our delays are the best out there – end of story. With D-Two we wanted to combine our awesome delays with fun – we've added the truly musical Rhythm Tap feature: Not only tempo, but actual rhythm patterns can be tapped directly on the unit for results that are sure to quickly whip your creativity to new highs!

DN9650
AES50 Network Bridge Format Converter with up to 64 Bidirectional Channels and Asynchronous Sample Rate Conversion
RME MADI Face USB
MADIface USB offers several operation modes when used with a Mac or Windows computer: 64 Channel Mix, Redundancy mode, 128 Channel Mix and a straight routing mode.
The option Disable TotalMix completely disables TotalMix, the unit's flexible internal mixer and routing matrix. All input and output data is going straight to record/coming from playback, with no mixing or routing involved. In this mode the outputs are mirrored, carrying the same signal.
In 64 Channel Mix mode TotalMix shows 64 input, playback and output channels. All settings in TotalMix use the data from one MADI input port, and send identical data to both MADI output ports. The currently active MADI input port can be configured in the Settings dialog.
The option AutoSelect activates an automatic input selection. Using both inputs at the same time, AutoSelect puts the device into Seamless Redundancy mode. The MADIface USB will switch to the other input in real-time if the current one fails.
In 128 Channel Mix mode record and playback is still limited to 64 channels, with the current input selected in the Settings dialog. But the other input is also available through TotalMix, and the output signal is not mirrored, but separated, with TotalMix having 128 output channels. Applications like independent mix output, monitoring and serial pass-through of the second source are just a few clicks away.
SteadyClock as well as RME's well known MADI compatibility ensure hassle-free operation with other devices. MIDI over MADI technology may be used to remote-control other MADI devices. DIGICheck, an included complete audio analyzing suite, supports the user under Mac OS X and Windows.